Many pool decks suffer from dirt, dust or grass clippings blowing through the screens. Some enclosures which back onto slopes also allow the ingress of water onto the deck. In these cases, Florida Glass can be used to replace the standard screen material, providing a barrier to prevent these problems.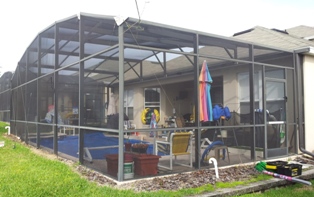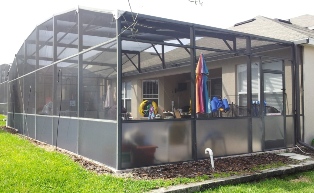 Another benefit of Florida Glass is that it is considerably more durable than standard screen material, which also makes it ideal for use as a more robust option for customers who have pets.
We have also been asked to install Florida Glass to screen enclosures adjacent to foreclosed properties, to prevent homeowners or guests from seeing unsightly green pools or weed ridden decks. Florida Glass can also be used as a weather barrier to prevent rain blowing into screen enclosures.
Where Can I Get Florida Glass?
Ludlow Services carry 36" wide Florida Glass in stock, which is usually sufficient to fit most bottom panels. Should larger panels be required the material can be obtained as a special order.
Ludlow Services offers Florida Glass installation in the following areas – Davenport, Kissimmee, St Cloud, Clermont, and Orlando.