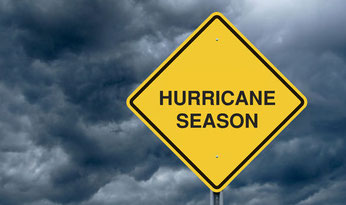 During hurricane season in Florida, it's important to make sure you have the necessary supplies to survive a hurricane as well as the brutal storms which sometime pop up during the summer months. 
It is also important to secure your household, whether it's with storm shutters or impact resistant glass.  Many homeowners often overlook the importance of securing their pool area.
Modern construction has strengthened pool cages significantly over the years, but older enclosures are often only replaced when worn or broken.  Screen enclosures are usually made up of lightweight aluminum and polycarbonate materials and thick fiberglass mesh screens.  During a hurricane, these screens can act a sails, causing major damage or even carrying your enclosure away.  And while screens are replaceable, the enclosure itself is quite an investment.  
If a hurricane is coming, it is recommended that homeowners cut a few screens to allow the wind to travel through the enclosure. Cutting the screens at eye level on opposite sides can greatly mitigate the wind damage caused by the screens in a hurricane.  This way, the wind doesn't get trapped inside, possible lifting your enclosure and carrying it away.
A variety of anchors can also help to fortify your pool enclosure's structure.  Cables are attached to the concrete foundation and secured at different points on the enclosure.  These strengthen the structure and don't disrupt the view through your screen.  More cables can be added if there is a storm on the way and essentially tie down the enclosure, bracing it against damaging winds.