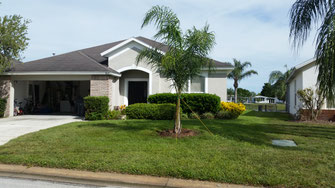 Maintaining your lawn and other landscaping has incredible benefits to your home value as well as the home around you.  Studies suggest that a well maintained landscape can add up to 12% to the value of your home.  This means an additional $24,000 value on a $200,000 home.  Your well-maintained landscaping can lead to a pleasant curb-appeal as well, generating more interest if you put your home 
on the market.
Having a yard that is the envy of your neighbors can also increase the values of home around you.  Who wants to buy a home across from a weedy and unkempt yard?  By maintaining your lawn and landscaping, home values around you can also increase.  You may even spur other homeowners in your neighborhood to increase their efforts, leading to a neighborhood that is more desirable to live in.
Take a look at which homes sell faster, and you will find that homes with great curb-appeal plays a large role in how long a house stays on the market and the final price when sold.
If we can help you add some curb appeal, please contact Ludlow Services for a Free Estimate (407) 456-1369