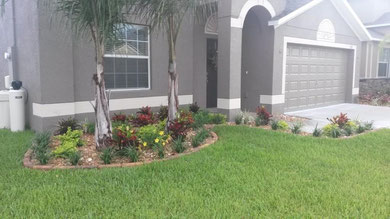 Research has shown that upgrading your property's landscape design can significantly increase the
value and curb appeal of your home. Landscape design is a home improvement that not only adds value immediately, but can also increase in value over the years.
Landscape design involves more than planting a few flowers.
Please keep in mind when planting flowers or scrubs the plant size, maturity and diversity of plants are important.
Here are a few ways to increase your home value with landscaping:
Renovate your lawn – eliminate weeds and bare patches for a full, lush lawn
Plant trees and scrubs – these can add privacy and define an area
Select colorful plants and flowers – this can add natural beauty to your landscaping
Use native plants to your area – plants suited to your climate and soil will last for years
Install landscape lighting – showing off your hard work isn't just for the daytime
Create an outdoor patio for entertaining with fireplace or fire pit – a defined outdoor space for
entertaining will go a long way to make your property more desirable
Adding pavers to walkway - This can add value while decreasing maintenance.
With the help of Ludlow Services we can create a gorgeous landscape that will enhance the value of your home. We can match landscape design to your home style. If you don't have a plan for your landscaping we can make suggestions and put together a strategy for you.